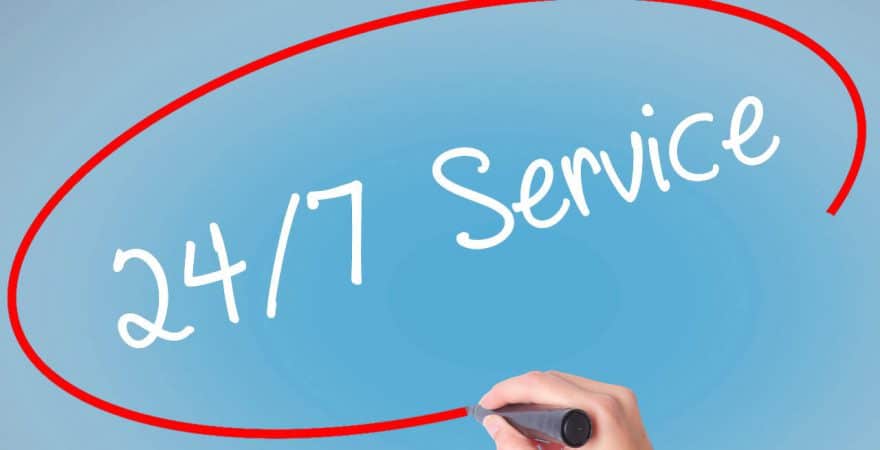 Is uw organisatie klaar voor de 24-uurs economie? Of u nu garagehouder, makelaar, jachtverhuurder, fysiotherapeut of schoonheidsspecialiste bent of voor een kleine of middelgrote organisatie werkt, u zult hebben gemerkt dat de 24-uurs economie u soms voor grote uitdagingen stelt. Klanten bellen, mailen, appen en chatten net zo veel buiten als binnen kantoortijden en verlangen zo snel mogelijk antwoord. Dat kost tijd en energie. Bovendien kan het ten koste gaan van de normale werkzaamheden. U zou daarom kunnen overwegen om uw klantcontact uit te besteden. Dat klinkt misschien gek, maar een multi-skilled contactcenter zoals dat van 123 Telefoondienst is daar juist in gespecialiseerd.
Klantcontact uitbesteden
123telefoondienst is helemaal gespecialiseerd in het verzorgen van klantcontact voor andere organisaties. In Farmsum, vlakbij Delfzijl, zit ons team van gemotiveerde en toegewijde medewerkers klaar om ook de telefoontjes en berichten voor uw organisatie te beantwoorden. Of het nu gaat om telefonisch contact, de afhandeling van e-mail, het reageren op chat- en WhatsApp-berichten of het beheren van uw agenda, niets is de mensen van 123telefoondienst te gek.
Klaar voor de toekomst
Er is steeds meer vraag naar multi-skilled contactcenters en callcenters. Gezien de te verwachten groei is 123telefoondiensten onlangs verhuisd naar een groter pand waar het klaar is voor de toekomst. Er wordt gebruik gemaakt van de modernste software zodat opdrachtgevers binnen zeer korte termijn ontzorgd kunnen worden op het gebied van klantcontact.
Klantcontact
De medewerkers van 123telefoondienst kunnen niet alleen uw telefoontjes opnemen, uw agenda voor u beheren en e-mail- en WhatsApp-berichten afhandelen maar ook de chatfunctie van uw website of webwinkel voor u bemannen. Dat doen wij ook buiten kantoortijden. Hierdoor is ook uw organisatie altijd bereikbaar en wordt uw organisatie ook zo min mogelijk belast door het klantencontact.
14 december 2018
Categories: